Last Chance: Best Buy – Boxing Week-Long Sale (Dec 24-31)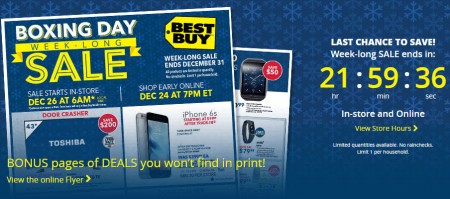 Last Chance Reminder: I originally posted about this deal last week. Here's a friendly reminder that Walmart's Boxing Week Sale ends tonight. This is a very popular deal so don't miss out!
Best Buy's Boxing Week-Long Sale is available in-stores and online from December 24-31, 2015. It's your last chance to save during Best Buy's biggest sale of the year.
Best Buy offers free shipping on orders over $25.
Click here to shop Best Buy online now or for more details.