GROUPON: Help Give New Coats to Kids – Donate $1 & Get $10 Off Local Promo Code (Dec 1)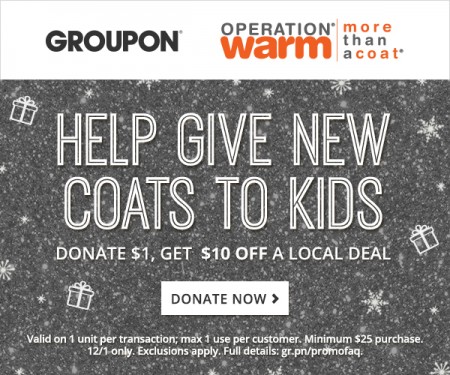 Support Groupon.com's Operation Warm and help give new coats to kids! Donate $1 for winter coats for kids and you'll receive a promo code for $10 off your next local Groupon purchase! It's a win-win situation for everyone! 100% of the proceeds will be donated to Operation Warm.
This is a 1-day only offer today (December 1, 2015) so don't miss out!
Here's more details about the offer:
The Campaign: Distributing Winter Coats to Kids in Need
All donations to this Grassroots campaign will be used by Operation Warm to distribute new winter coats to children from low-income families. For every $20 raised, Operation Warm can purchase and distribute a winter coat to one child in need. Groupon customers who donate $1 will also receive a $10 off promo code for their next local Groupon deal of $25 or more, valid on December 1

These donations, in addition to the $25,000 Groupon has donated, will help Operation Warm reach its goal of providing 300,000 children with coats this year. Operation Warm works directly with manufacturers to obtain quality new coats at the lowest cost possible. The coats are then distributed during events in low-income housing areas and community centers.

Operation Warm
Founded in 1998, Operation Warm distributes winter coats to children across America, protecting their health and safety as well as buoying their spirits. "Our motto is 'more than a coat,' and I like to say we bring happiness and warmth to children through a new winter coat," executive director Rich Lalley says. "When they get a brand-new winter coat all their own … they feel better about themselves, and when they feel better about themselves, children perform better in school."

Operation Warm distributes hundreds of thousands of new coats around the world each year. The organization's coats are brightly colored and have extra-deep pockets and detachable hoods, and they come in sizes 3T to adult large.
In a Nutshell
Donation helps fund the purchase and distribution of new winter coats to children from low-income backgroundsThe Fine Print
100% of donations goes directly to Operation Warm. Valid on 1 unit per transaction; max 1 use per customer. Minimum $25 purchase. 12/1 only. Exclusions apply. Full details at gr.pn/promofaq. See the FAQ. Merchant is solely responsible to purchasers for the care and quality of the advertised goods and services.
Click here to buy the deal now or for more details about the offer.