Zenbanx: Free $50 Promotion + $10 Sign-Up Bonus!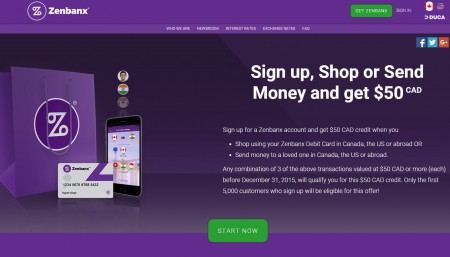 Zenbanx is back with another terrific promotion!
For a limited time, the first 5,000 customers to sign-up for a new Zenbanx account can get a Free $50 Credit + Free $10 Sign-up bonus!
I last blogged about Zenbanx back in July during their incredibly popular Exchange $250 CAD to USD at Par promotion. If you missed the last promotion, now's the time to sign-up. The current promotion is available to new Zenbanx customers only.
Promotion Details can be found here:
Sign-up for a Zenbanx account and get free $50 CAD credit when you:

Shop using your Zenbanx Debit Card in Canada, the US or abroad OR
Send money to a loved one in the Canada, the US or abroad.

Do any combination of 3 of the above transactions valued at $50 CAD or more (each) before December 31, 2015, will qualify you for this $50 CAD credit.  You don't have to do all 3, just any combination as long as it totals 3 transactions. TIP: A simple way to get the bonus is just send 3 separate transactions of $50 to your friends or family.
I signed up during the last promotion and couldn't be happier.  I was able to spend my USD with my debit card down in the States without any issues, and when I needed more USD while I was still in Las Vegas, the conversion process was simple, and the rate was significantly better than what I would have received at a bank.  Zenbanx is a great way to save money when travelling!
Here's 5 Reasons to Open a ZenBanx Account:
Sign-up today and get up to $60 free ($50 credit + $10 sign-up bonus)!
Use the Zenbanx debit card at leading merchants in Canada, US, and abroad.  It's up to 50% less than your typical Canadian credit card Foreign Exchange fee.
Convert your Canadian dollar funds into a foreign currency of your choice, usually at a significantly better rate than your banks.
ZenBanx is offered by DUCA Financial Services Credit Union Ltd. in Canada and your Canadian deposits are insured by up to $100,000.
After you sign-up, refer your friends and family and get $25 for each referral. Your referrals will each get the $10 bonus.
Sign-Up Instructions:
Complete the application form including your SIN and a ID (Ie. drivers license or passport).
Add Linked Account (1 of 2 ways):
A) Input your Bank Details (Institution #, Transit #, and Account #).
B) Write a cheque to and from yourself for at least $150 and take a picture of it and upload it with the mobile app.
ZenBanx will make 2 micro-deposits into your bank account within 2-3 business days.
When you see the small amounts, enter them into your ZenBanx account to complete the verification process.
You can now send out money and start doing your 3 transactions.
Make sure you open your account asap, as this promotion is limited to the first 5000 customers.
You will also be mailed your debit card within a week or so, and use that instead if you wish to do your transacations
To clarify, sign-up for a new Zenbanx account and deposit at least $150 into your account.  Once you have everything set up, make 3 transactions of at least $50 each, and you'll get a $50 credit! As a bonus, you can also refer friends and family and you will get $25 per referral, and they will receive $10 each!
You must sign-up through one of my links to be eligible for the free $10 sign-up bonus.
Click here to sign up for ZenBanx now and get your $10 Sign-Up Bonus + $50 Credit after 3 Transactions.
Click here to read a popular post about this exact offer on RedFlagDeals.