Swiss Chalet: 2 Can Dine for $15.99 Coupon (Until Nov 1)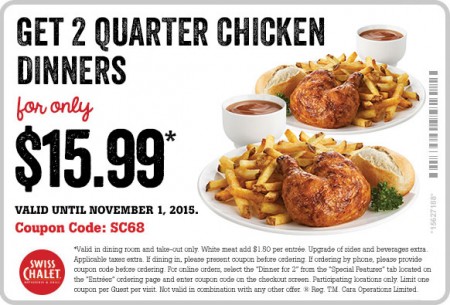 Swiss Chalet just released a new 2 Can Dine for $15.99 printable coupon! You can get 2 Quarter Chicken Dinners for only $15.99. The coupon is valid until November 1, 2015. It's valid for two quarter chicken dinners in dining room and take-out only. You'll need to present the coupon to the server before ordering (either print the coupon or show it on your smartphone) or enter the coupon code SC68 for take-out orders..
There's also a Deluxe Delivery Dinner for 2 for $24.99 coupon. Get 2 Quarter Chicken Dinners, 2 Appetizers, and 2 Cans of Pop for only $24.99 (delivery only). You'll need to enter the coupon code SC75 at checkout.
Click here to print Swiss Chalet's 2 Quarter Chicken Dinners Coupon.
Click here to find a Swiss Chalet Restaurant near you.