Marble Slab Creamery: New Printable Coupons (Until June 30)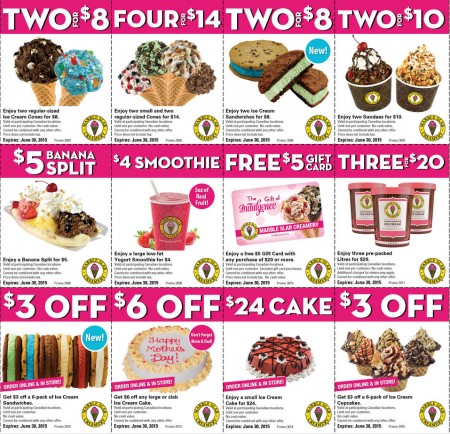 Marble Slab Creamery just released a bunch of new Sweet Savings printable coupons! The coupons are valid now until June 30, 2015.
There's 12 coupons in total. Here's a sample of some of the coupons:
Four Cones for $14 (2 Regular, 2 Small)
Two Cones for $8
Two Sundaes for $10
Banana Split for $5
$6 Off Large Ice Cream Cake
If you haven't been to Marble Slab lately, they now offer unlimited mix-ins for one price.
Click here to print Marble Slab Creamery's coupons.
Click here to find a Marble Slab Creamery store near you.