Swiss Chalet: 2 Can Dine for $14.99 (Until Mar 8)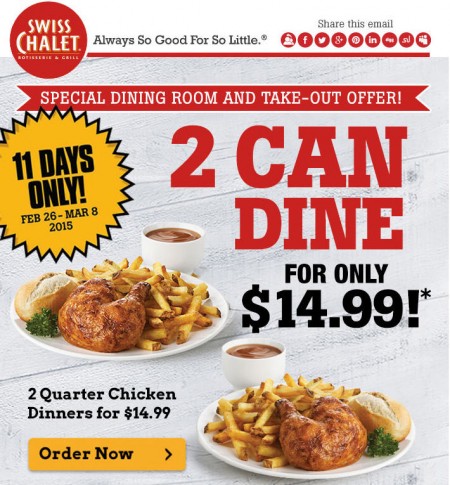 Swiss Chalet is running a '2 Can Dine for $14.99' promotion. You can get 2 Quarter Chicken Dinners for only $14.99 (reg. $19.98). The offer is valid until March 8, 2015 for in dining room and take-out only.
Simply ask for deal when you place your order, you don't need a coupon or anything. They're advertising the deal on their website and the Swiss Chalet by my house had a big "2 Can Dine" banner in front of the restaurant.
Click here to visit Swiss Chalet's website for more details.
Click here to find a Swiss Chalet Restaurant near you.