Marble Slab Creamery: Deal of the Day (Until Jan 31)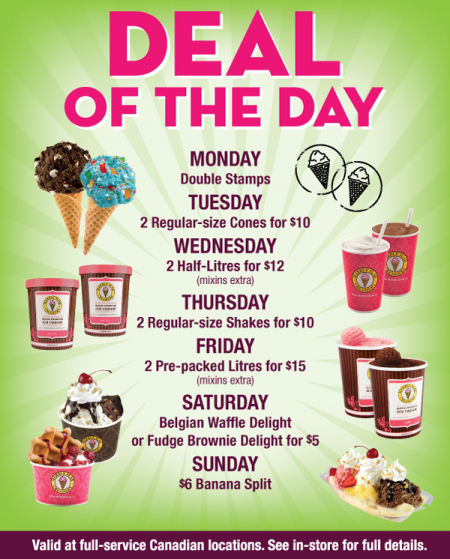 Marble Slab Creamery Canada launched a new promotion. They are going to feature a daily deal every day of the week.
Here's the daily deals for each day:
Monday: Double Stamps
Tuesday: 2 Regular-Sized Cones for $10
Wednesday: 2 Half_Litres for $12 (mixins extra)
Thursday: 2 Regular-Sized Shakes for $10
Friday: 2 Pre-Packed Litres for $15
Saturday: Belgian Waffle Delight or Fudge Brownie Delight for $5
Sunday: $6 Banana Splits
Valid at participating Canadian locations until January 31, 2015. Price does not include tax. Cannot be combined with any other offer. No cash value.
Also, if you join their mailing list "Marble Mail", you'll get the scoop on new products, coupons, promotions, plus a FREE Cone for your birthday.
Click here to visit Marble Slab Creamery' promotion page for more details.
Click here to find a Marble Slab Creamery store near you.