Groupon: Secret Sale – Extra $50 Off Getaway Deals Promo Code (Oct 15-16)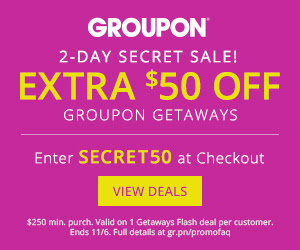 Groupon.com is offering a 2-day Secret Sale! You won't find this exclusive sale advertised on Groupon's website.
You can save an extra $50 off $250+ on Groupon Getaways (travel deals) when you enter the promotion code SECRET50 at checkout! The code is valid for 2-days only from Wednesday, October 15 to Thursday, October 16, 2014 at 11:59 PM PST. This is going to be a popular offer so don't miss out! I tested the code and can verify that it works.
I quickly browsed around and there's over 300+ deals to choose from (Ie. Las Vegas, Hawaii, Florida, New York, California, Mexico, Costa Rica, + much more)
There's a limit of 1 deal per customer with a maximum discount of $50. Hurry, only a limited amount of people can use the code so take advantage of the offer while you can!
This is a hot deal because most of the deals featured on Groupon is already discounted 50-95% off. You'll find lots of amazing deals with the extra 15% off.
Click here to shop on Groupon.com now and view all their new Getaway deals.