myVEGAS Slots Facebook Game: Win Real Rewards & Get Free Comps in Las Vegas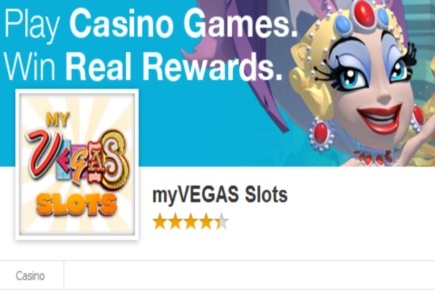 myVEGAS Slots is one of the most popular games on Facebook. The awesome thing about the free casino game is you play to get real rewards and win free comps to the hottest spots in Las Vegas! We're talking free rooms, restaurant meals, show tickets + much more! The game is worth checking out if you plan on going to Vegas in the future.
The game is completely legit with over 500,000 monthly players. myVEGAS Slots is sponsored and heavily promoted by MGM Resorts which operates all of the following Las Vegas Casinos: Aria, Bellagio, Vdara, MGM Grand, Mandalay Bay, THEhotel at Mandalay Bay, The Mirage, Monte Carlo, Excalibur, Circus Circus, Luxor and New York-New York! There's myVEGAS Slots posters and ads everywhere in Las Vegas.
The game is wildly addicting and a terrific way to get free comps in Vegas. Once you start playing the game, you'll commonly hear people getting $700 worth of free comps in Vegas after playing the game for about two months. If you're going to Vegas with your significant other or a group of friends, get them all to play too so you can win more rewards and comps.
If you haven't heard, I recently launched Vegas deals blog. Check it out at JustVegasDeals.com. The site features all of Vegas' best daily deals, flight deals, hotel deals, show deals, freebies, guides, reviews and travel tips.
Insider Tip: Checkout "myVEGAS Gifts, Guides & Giveaway" Facebook group.  Read their strategy guide, meet a lot of people playing the game and get tons of free coins to help get comps and rewards quicker. The group is very active with over 12,000 members. You can get 100,000+ worth of free coins if you click a bunch of the "Chip Share" links posted in the group. One of the things you'll learn is it's a good idea to open a separate Facebook account just for myVEGAS. You can get lots of bonus coins when you share winnings so it's a bad idea to use your main Facebook account and spam the heck out of your real friends. From what I can tell, most people playing the game have a separate myVEGAS account. Just be careful and don't add too many myVEGAS friends too quickly.
So, if you're thinking about going to Vegas, I highly recommend that you check out the game. When was the last time you got free stuff for playing a video game?
Click here to visit JustVegasDeals.com for Vegas' best daily deals, flight deals, hotel deals, show deals, freebies, guides, reviews and travel tips.
Click here to play myVEGAS Slots on Facebook or for more details about the game.
Click here to join myVEGAS Gifts, Guides & Giveaway Facebook group.
Enjoy the game and good luck!