Shop Mobile Basics: $25 for a 3-in-1 Wide Angle, Micro & Fish Eye Effect Photo Kit Set for iPhone 4/4S, Blackberry, HTC & more! – Taxes Included (Save $100 or 80% Off)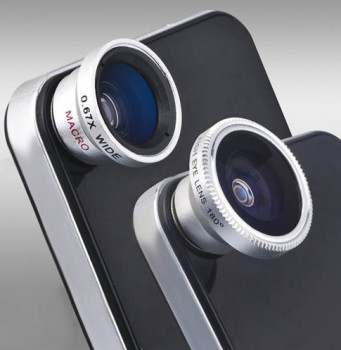 DealTicker Montreal Daily Deal of the Day: Shop Mobile Basics – $25 for a 3-in-1 Wide Angle, Micro & Fish Eye Effect Photo Kit Set for iPhone 4/4S, Blackberry, HTC & more! – Taxes Included (Save $100 or 80% Off)
Buy now for only $25
Value $125
Discount 80%
You Save $100
This is a limited 3-day only sale that will expire at midnight on Sunday, July 8, 2012. Click here to buy now or for more information about the deal. Quantities are limited so don't miss out!
HIGHLIGHTS
Package includes:
Fish Eye Lens x 1
Wide Angle (+ Marco Lens) x 1
Wide Angle Lens = Wide Conversion Lens + Marco Lens
Lens Cover (plastic) x 2
Detachable Magnetic Ring x 4
Keychain strap x 2
English Manual x 2
The shot distance is between 10-23mm
Fisheye lens – Magnification: Up to 180 degrees
Portable and detachable, you can take photo with your devices at any time
Made of high-quality glass and top-grade aluminum
Magnetic and easy to use!
Perfect for photography enthusiasts
THE FINE PRINT
MAY BUY UNLIMITED VOUCHERS FOR PERSONAL USE AND UNLIMITED AS GIFTS
Voucher entitles holder to a 3-in-1 Wide Angle, Micro and Fish Eye Effect Photo Kit Set
Voucher expires after one year (Expiry date: July 9, 2013)
Your order will automatically be shipped to the destination of your choice. Please ensure proper shipping information is included with your order
Taxes are included
Shipping is not included and is subject to a shipping fee of $5 payable upon purchase of voucher
Please allow 2-4 weeks for shipping after offer ends on DealTicker
Final sale – no refunds unless damaged or defective
No cash value/cash back
Cannot be combined with any other offers or promotions
Compatible with:
iPhone 3G / 3GS / 4G / 4S (see notes below)
iPod Nano 5th, iPod Nano 6th
HTC Dream / T-Mobile G1
NDS DS-i
Notebook / Netbook (eg. Mac / Macbook / eee-pc / laptop)
Mobilephone / PDA / Smartphone…
Degital Camera (for example: kodak Zi8, kodak Zi6, Ativa Mini HD)
Kodak Ze-Series: Playfull
Kodak Zx-Series: Playsport / Zx3, Playsport / Zx5, ZxD
Kodak Zi-Series: Playtouch, Zi8, Zi6
Pocket Video Cam Vado HD
Pocket Video Cam Vado HD 2nd gen
Pocket Video Cam Vado HD 3rd gen
Sony HD Camera – Sony Bloggie MHS-PM5K
MacBook Pro / Air
Blackberry BOLD 9000 Blackberry BOLD 9650 Blackberry Curve 8330 Blackberry Curve 8350i, Blackberry Curve 8900 Blackberry Pearl 8110 Blackberry Pearl 8120 Blackberry Pearl 8130, Blackberry Pearl Flip 8220 Blackberry Pearl Flip 8230 Blackberry Storm 2 9550 Blackberry Storm 9500, Blackberry Storm 9530 Blackberry TOUR 9630
Samsung Galaxy S2 I9100 SII
The Company
Shop Mobile Basics
YOUR ORDER WILL AUTOMATICALLY BE SHIPPED TO THE DESITNATION OF YOUR CHOICE. PLEASE ENSURE PROPER SHIPING INFORMATION IS INCLUDED IN YOUR ORDER
http://www.shopmobilebasics.com/
Here's one of those cool gadgets we'll bet you didn't even know existed. This 3-in-1 photo lens kit includes a wide-angle, micro and fisheye lens! This hip new technological addition makes the perfect addition to anyone's accessory collection. Plug in the scope directly to your device and enjoy image clarity and acuity that you never thought possible with a simple phone camera. This lens kit not only allows you to take photos, but it takes your photographs to another level. With a wide-angle, you can take panoramic-view photos that extend beyond any average 16:9 frames. With a Micro lens, your device can take snapshots and close-ups without ever losing focus! And with the fisheye lens, your device can achieve some need effects for up to a 180-degree view. With high luminous flux, excellent visual acuity, sharp color, and top-quality photos, this 3-in-1 lens kit can help you take your photo taking skills on your Smartphone to a professional level.
Click here to buy now or for more information about the deal. Don't miss out!