Air Canada: Spring Worldwide Seat Sale (Book by Apr 29)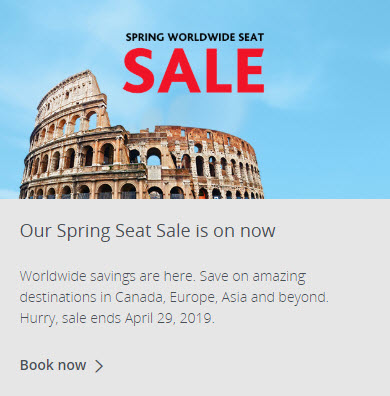 Air Canada is having a Spring Worldwide Seat Sale.
Worldwide savings are here. Save on amazing destinations in Canada, Europe, Asia and beyond.
Hurry, sale ends April 29, 2019.
Book by: 29-APR, 2019 (11:59 pm MDT)
Travel dates: 9-MAY, 2019 – 31-JUL, 2019, 4-SEP, 2019 – 14-DEC, 2019
Advance purchase: Purchase at least 21 days prior to your departure date
Travel Tips:
Click here to visit AirCanada.com to book a flight now or for more details.