REMINDER: SPG Credit Card from Amex – Increased Welcome Bonus – Get 25,000 Bonus Starpoints = 6 Free Nights Hotel!
UPDATE: Increased Bonus – For a limited time, American Express has increased the Welcome Bonus from 20,000 points to 25,000 points! Offer ends Oct 18, 2017. If you haven't already signed up for the card, now's the time to do so. An awesome deal got even better.
If you're a regular follower of my blog, you've likely started Travel Hacking after reading my all-time most popular post: American Express Gold Rewards Card – FREE 30,000 Points = FREE Flight to Anywhere in North America! The Starwood Preferred Guest (SPG) Card from Amex is the 2nd step in your Travel Hacking journey. Travel Hacking is the art of collecting miles and points to get free flights, hotels, and more.
I'm always learning about travel hacking and wanted to share with you another amazing, even better offer – American Express Starwood Preferred Guest (SPG) Credit Card! For a limited time, they're offering an incredible 25,000 (20,000) Welcome Bonus Starpoints! That's enough points for up to 6 Free Nights Hotel at a Category 2 property! Each SPG point is worth around 3.55 cents CAD so you're getting tremendous value. I now use this card as my primary go to (daily use) card. I charge whatever I can to it because it gives me twice the value compared to my other credit cards.
Plus, the card has an awesome referral program – get 10,000 bonus Starpoints for each friend/family you refer to this card (earn up to 150,000 bonus points annually)! 
To get the 25,000 welcome Starpoints, all you have to do is sign-up for the card and charge $1,500 in purchases to the card within the first three months of card membership. The card has a $120 annual fee, but even with that, this is the absolute best card to have because of the generous welcome bonus (worth over $850 CAD). If you don't like the card, you can cancel the card at any time without penalty and keep your points.
If you're new to the Starwood Preferred Guest program, it's one of the best loyalty programs in the world because it gives you access to nine exciting hotel brands with more than 1,000 hotels and resorts in nearly 100 countries.  Because of this, the Starwood Preferred Guest Credit Card is one of the best travel cards for earning travel rewards!
This is a special limited-time offer so don't miss out! Sign-up now before the offer ends. The exclusive offer is valid for Canadians only.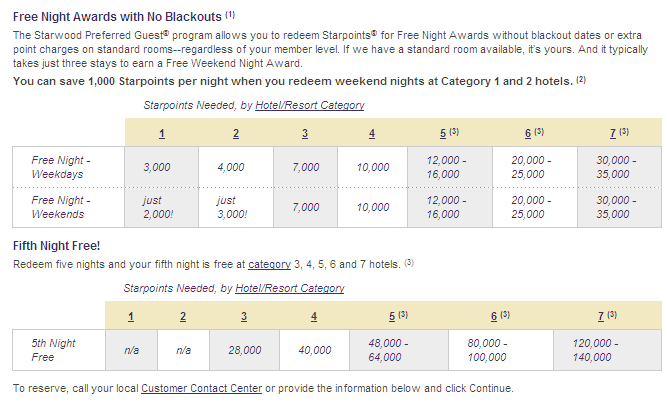 I did a lot of research before I got this card due to the $120 fee, but I'm so glad I got it!  Here's why:
Welcome Bonus: Earn 25,000 Welcome Bonus Starpoints, after you charge $1,500 in purchases to your Card in your first three months of card membership. That's enough for up to 6 free nights (over $850 value).
Referral Bonus: Refer a friend or family, and get 10,000 bonus points for each successful referral!  This is the absolute best part of this card, as the SPG card sells itself!
Earnings: You can earn 2 Starpoints for every dollar of eligible purchases charged to the Card at participating SPG and Marriott Rewards hotels.  Earn 1 Starpoint for every $1 in all other purchases charged to the Card.   You are getting over 2.5 cents return per dollar, higher than almost every other card out there!
Free Travel Insurance: Get $500,000 Travel Accident Insurance, Flight Delay Insurance, Baggage Delay Insurance, Lost or Stolen Baggage Insurance, Hotel/Motel Burglary Insurance and more!  Travel with peace of mind!
Free Entertainment Access:  Get special Front of Line Advance Access to all the popular concerts that are always sold out.  Purchase tickets before everyone else!  With this perk, I've never had a problem purchasing any concert tickets that I've wanted to go to!
Free Shopping Coverage: Buyers Assurance Protection Plan doubles manufacturer's warranty automatically up to 1 year longer, and Purchase Protection Plan automatically insures your products for physical damage and theft!
The exciting thing is what you can do with your SPG Points:
SPG Moments: Experience once-in-a-lifetime events with SPG Moments (biggest music, sports and cultural events in the world).
No Black Out Dates: Redeem Starpoints for Free Nights with no blackout dates at over 1,200 hotels and resorts in nearly 100 countries.  Here's a list of hotels available.

5th Night Free: Book 4 nights and get the 5th night free if you book Category 3 and above

Transfer to Marriott: With Starwood and Marriott's partnership, you can instantly transfer to and from Marriott points at 1:3 ratio.  Get even more hotel choices!
Transfer to Frequent Flyer Miles:  Transfer Starpoints to frequent flyer miles with nearly 30 airlines, usually on a 1:1 basis.
I've already saved thousands of dollars thanks to SPG.  I started by signing up for the card and then referred my wife – just by doing that, we got 50,000 SPG points for $240 ($120 annual fee X 2 cards). We recently took a trip to New York City and stayed at the Element New York Times Square West for 5 nights. Because the 5th night was free, we only used 48,000 points with no additional fees or taxes!  For our dates, the price would have been about $1,850 all in, so we got almost 4 cents per point value!  Just by signing up these 2 cards, we managed to save over $1,600 and still have a couple thousand points to spare!
Because the card sells itself, I've been able to easily refer friends and family to also sign-up for the card and accumulate lots of bonus points (10K bonus points for each referral). Earlier this year, I used SPG Starpoints and won a couple SPG Moments auctions and got to go to the NHL All-Star Game in LA as well as NHL Awards in Vegas! It was truly an once-in-a-lifetime experience and I was only able to go because of SPG.
If you consider all the points, this is a deal you can't ignore! Worst case, you take the 25,000 Starpoints and cancel the card before the first year.
Click Here to start Travel Hacking and get your 25,000 SPG Welcome Points today!
Click here to visit my new site RayTravelsFree.com for more travel hacking tips and deals.