LAST CHANCE: Canada.ca – FREE 2017 Parks Canada Discovery Pass (Until Dec 31)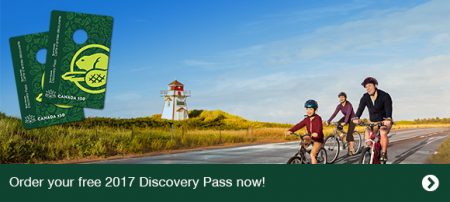 Last Chance Reminder: I first blogged about this deal on December 2nd. Here's a reminder that December 31, 2016 is the last day to order the free pass online. This is a very popular deal – it was so popular that it crashed Canada.ca's website for a few days. I got my pass in the mail last week.
Here's an awesome freebie!
Canada is celebrating it's 150th anniversary of Confederation in 2017. As Canada's gift to you, they're giving away free 2017 Parks Canada Discovery Passes + Free Shipping!
The pass will provide free admission for the entire year to Parks Canada places from coast-to-coast! Find adventure, fun for the whole family, or a short break from the everyday. There's never been a better time to make your Parks Canada dream a reality!
You can order your free pass here. Parks Canada will begin shipping the 2017 Discovery Pass Orders in mid-December.
For all of 2017 this pass gives you unlimited opportunities to enjoy National Parks, National Marine Conservation Areas and National Historic Sites across the country!
Please note:

You only need to order one pass for your group or family if you are all travelling together. A 2017 Discovery Pass is valid for everyone arriving in the same vehicle at a national park, or arriving together at a marine conservation area or historic site.
The Discovery Pass is only accepted at national historic sites which are operated by Parks Canada.
Activities such as tours or parking that normally carry a separate fee may not be covered by the Discovery Pass.
Camping fees are not included with the Discovery Pass
Validity Period: January 1st 2017 to December 31st 2017.
Display: The 2017 Discovery Pass must be hung from the rear view mirror of the vehicle facing forward or it can be placed on the front driver side dashboard facing up.
Click here to order your Free 2017 Parks Canada Discovery Pass
Click here for a list of Canada's National Parks.
Please Like and Share this post so everyone can take advantage of this freebie. Thanks Canada!