Rexall: $10 Off When you Spend $30 Coupon (Aug 3-6)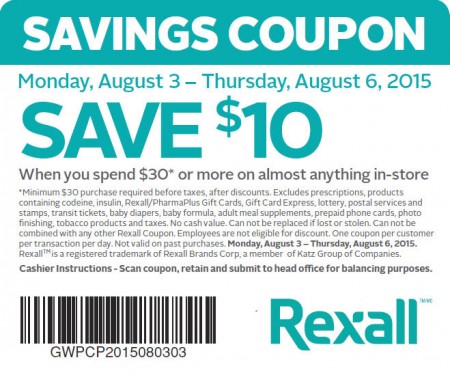 Rexall Pharma Plus just released a printable coupon that'll save you $10 off when you spend $30 or more on almost anything in-store. The coupon is valid at all Rexall stores across Canada from August 3-6, 2015 .
Make sure you read the fine print before you use the coupon as it excludes certain items.
Excludes prescriptions, products containing codeine, insulin, Rexall/PharmaPlus Gift Cards, Gift Card Express, lottery, postal services and stamps, transit tickets, baby diapers, baby formula, adult meal supplements, prepaid phone cards, photo finishing, tobacco products and taxes.
Click here to print Rexall's $10 off $30 coupon.
Click here to find a Rexall store near you.