Reminder: Groupon.com – Best of Groupon – Top Selling Local Deals, Staff Picks, Best of Goods & Getaways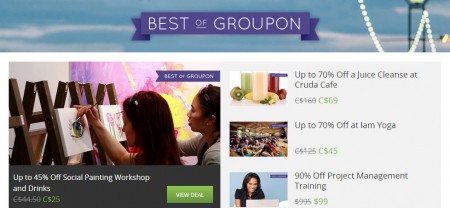 Reminder Update: I originally posted about this yesterday. This is a very popular offer! A lot of people have taken advantage of all the great deals so don't miss out!
Check out Groupon's "Best of Groupon" page for all the top selling local deals , staff picks, best of goods, and best of getaway deals!
Groupon is an easy way to get huge discounts while discovering fun activities in the city. Their daily local deals consist of restaurants, spas, things to do, nightlife, massages, salons, and hotels.
Click here to see all the "Best of Groupon" deals.