7-Eleven: Bring Your Own Cup Day – $1.49 for Any Cup Slurpee (Mar 20)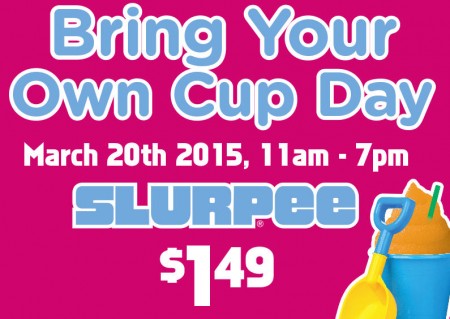 7-Eleven Canada is celebrating the first day of spring (and Slurpee season) with Bring Your Own Cup Day! Get your fill of slurpee in a cup of your choice for only $1.49. This is a 1-day only offer today (Friday, March 20th, 2015) from 11am to 7pm local time. Find the biggest cup in your house for the best deal!
Cups must be within 26 cm diameter (or fit within the measuring hold displayed in-store). Once cup per person per day. Cup must be clean and watertight.
Click here to visit 7-Eleven's website for more details.
Click here to find a 7-Eleven store near you.