Tim Hortons: Buy $25 E-Gift Card, Get $5 Bonus Card Free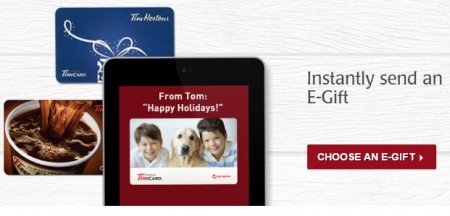 Tim Hortons is running a special limited time offer.
The first 1,000 purchasers of $25 or more of E-Gift Tim Cards will receive a bonus FREE $5 E-Gift Tim Card for themselves.
Hurry, this offer will sell-out quick. The offer is still available at the time of this blog post.
Tim Hortons will give away up to 1,000 $5 E-Gift Tim Cards starting on 12/12/14 at 2:00PM EST. To receive a $5 E-Gift Tim Card, you must purchase $25 or more on E-Gift Tim Cards during the Offer Period, as defined below. The offer runs from 12/12/14 and ends when all 1,000 $5 E-Gift Tim Cards are distributed ("Offer Period"). You must be eligible to purchase an E-Gift Tim Card to be eligible to receive the $5 E-Gift Tim Card.
Click here to visit Tim Hortons' website to take advantage of this offer or for more details.